Since 2001, when Beijing was awarded the Olympic Games, Free Tibet Campaign has repeatedly called for action by the IOC and the UK Government to turn into reality the International Olympic Commitee's (IOC) famous "bet", that staging the Olympics in China would be a force for good.

Free Tibet Campaign's key demands include:


# China to honour the Olympic Truce by entering into unconditional dialogue over the future of Tibet with the Dalai Lama's representatives.

# That China adheres to its promise of media freedom by 2008 (a promise made during Beijing's winning press conference in July 2001).

# That the IOC makes the content of the Host City Contract public, particularly those parts that relate to the control of dissent at the time of the Olympics.

Tibet campaigners have met with the IOC on two occasions - in December 2001 and October 2002. In the latter meeting, the IOC refused to lift the ban on political meetings and demonstrations during the Games, or to disclose the controversial Host City contract, despite promises by Jacques Rogge, the IOC President, to protect human rights.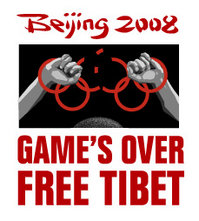 In July 2005 Free Tibet Campaign congratulated London on its successful bid to host the 2012 Olympic Games, announced by the International Olympic Committee (IOC) in Singapore. Whatever the value to Britain of hosting the Olympics, the decision provides Free Tibet Campaign with many more opportunities to raise awareness of its Beijing 2008 Olympic campaign. As Britain has become a fellow custodian with China of the Olympic ideal, Free Tibet Campaign is calling upon the UK Government to commit to a special initiative that will secure a negotiated settlement for Tibet and improve human rights in China before the Beijing Games of 2008.

"If our Government really wants to make Britain proud, it will back Tibet," said Yael Weisz-Rind, Director of Free Tibet Campaign. "We have no doubt that London is capable of hosting a truly great Olympics, but unless there is substantial progress on Tibet and human rights in China, the 2008 Games in Beijing will be badly tarnished."

http://www.freetibet.org/